Basalt Processing Line is the crushing production line for hard rock which is developed by SANME, we can provide the solution design of basalt production line at 30-800tph for customers.
Material
Basalt
Application
Mining, metallurgy, construction, highway, railroad, and water conservancy, and etc.
Equipments
Jaw crusher, hydraulic cone crusher, impact crusher, vibrating feeder, vibrating screen, and etc.
Introduction of Hard rock
Hard rock refers that under saturated humidity the uniaxial compressive strength of rock sample is more than 29.4×103kPa(diameter of the sample is 7~10CM, height is the same as diameter ) (magmatic rock such as granite, diorite, basalt; sedimentary rock such as calcareous ferruginous cemented conglomerate, sandstone, limestone, argillaceous limestone, dolomite; metamorphic rock such as gneiss, quartzite, marble, slate ), and has a high abrasiveness to abrasion resistant parts, therefore the hard rock production line should be designed properly, which not only consider the investment cost of crushing project, but also consider the operation cost.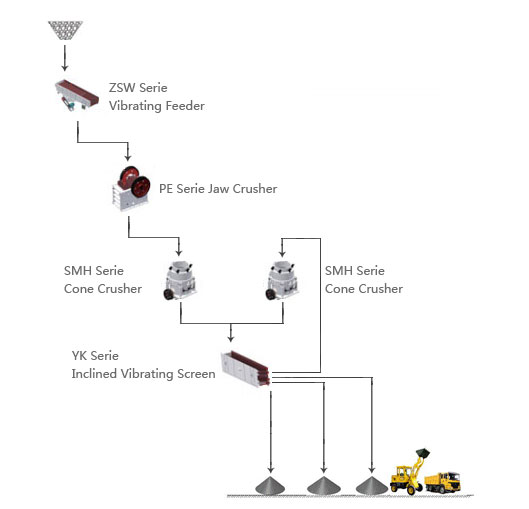 Basic process of basalt processing line
Vibrating feeder feeds the material into jaw crusher, and then jaw crusher crushes it primarily. After being crushed into reasonable size, the material will be reshaped and processed by impact crusher. Vertical shaft impact crusher plays the role of tertiary crushing, and then vibrating screen sieves product. Product size is up to the crusher model and screen model.
The features of basalt processing line
1. The quality of the product is very high. Content of needle plate type is no more than 5%. A diabase in Huzhou, Zhejiang province once adopted Jaw Crusher-Impact Crusher. But content of needle plate type is more than 10%, resulting the bad sell of its product. After using VI Series Vertical Shaft Impact Crushers, the content of needle plate type in the product is reduced to 4.7%.
2. The production improves 50% compared with utilizing Impact Crusher as the final processing of crushing.
3. Because we utilize Impact Crusher as the secondary crusher, and Vertical Shaft Impact Crusher consumes little metal, the consumption of wear-parts reduced largely in the whole processing.