XS Series Wheel Sand Washer is a bucketed XS Series Wheel Sand Washer, mainly used to washing and drying building material.XS Series Bucket Sand Washers are mainly used for washing and dehydrating sand stones for constructions. It is the highly effective equipment that is matched with sand maker.
XS Series Wheel Sand Washer Product Introduction:
Feed size: ≤10mm
Capacity: 100-350t/h
Suitable raw material: medium and coarse material
Applications: road construction, hydropower and building construction.
XS Series Wheel Sand Washer features and benefits:
(1) Reasonable structure, convenient maintenance.
(2) High processing capacity and low power consumption.
(3) low of wearing parts consumption, low cost.
XS Series Wheel Sand Washer Technology Advantages:
XS Series Wheel Sand Washers are widely used in gravel plant, mine, building material, transportation, chemical industry, hydropower station, concrete mixing plant and so on for washing and screening materials.
1.Reasonable structure. The impeller drive bearing is isolated from water and materials buried in washer, which greatly avoid the bearing damaged because of soaking in water,sand and other pollutants.
2.Extremely rare lost of medium and fine sand, the grading and fineness module of washed building sand have achieved two national standards" sand for building" and" cobble and gravel for building"
3.Almost no wear parts except for the sieve mesh of sand washer.
4.High output and low power consumption.
5.Longer service life and convenient maintenance.
6.Save water resource. 7.No pollution and high cleaning degree.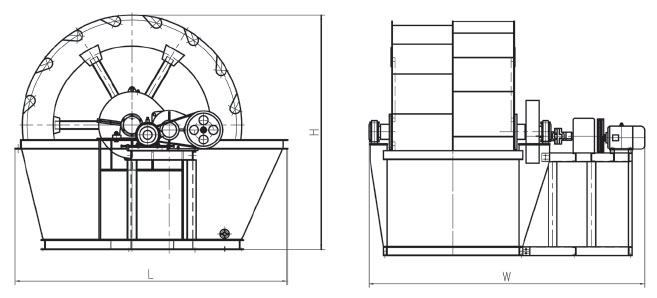 XS Series Wheel Sand Washer Technical Data:
Model
XS2600
XS2600 II
XS2800
XS3200
XS3600
Diameter of The Wheel Bucket(mm)
2600
2600
2800
3200
3600
Rotation Rater(r/min)
2.5
2.5
1.2
1
1
Maximum Feeding Size(mm)
≤ 10
≤ 10
≤ 10
≤ 10
≤ 10
Capacity
(t/h)
20~50
30~70
50~100
80~120
120~180
Motor Power(kw)
5.5
5.5
7.5
11
15
Overall Dimensions
(L×W×H)(mm)
3515×2070×2672
3515×2270×2672
3900×3300×2990
3965×4440×3410
4355×4505×3810
Weight(kg)
2500
2900
3980
7270
9430