Vibrating feeder also can be called vibrating feeding machine. Vibratory feeder in the production line can transport the material with the shape of massive and particles smoothly to the feeding device in a stable time, which can continuously feed the raw material to the crushing mechanical machine for such as long time beyond our imagination and which also can help to screen the coarse and fine product of mining machine, that is the reason why it can be used in the industries of metallurgy, coal ore, ore dressing, building material, chemical industry and grinding material in order to reach the purpose of combination of crushing and screening in the production line of mining machinery.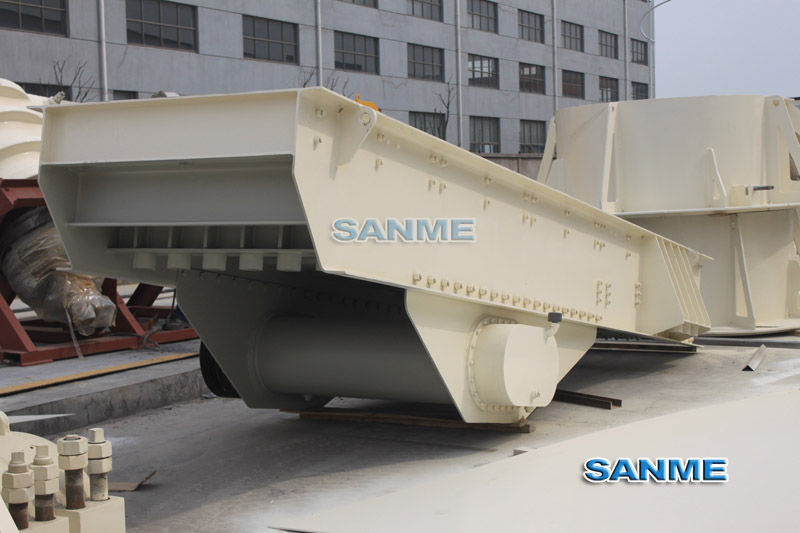 The machine vibrating feeder can send shaped and granule materials into receiving equipment evenly, timely and continuously. It can feed the crusher continuously and classify the material primarily in sand making and stone crushing line. It is widely used as crushing and screening in the industry of metallurgy, building material, chemical industry, coal mining and abrasive material.
The ore vibrating feeder consists of vibrating frame, spring, vibrator, motor vibrating device and motor. The vibrator is made of two fixed eccentric shafts whose gears are jogged. When installation, the two gears must be jogged according to the sign. Through drive of the motor, the two eccentric shafts start rotating to produce a linear huge power which forces the feeder to vibrate. Through vibration, the materials will slip and sling on the funnel, moving forward, and when the materials pass the screening part, smaller parts will fall down, thus avoiding the further crushing, and therefore, screening purpose can be reached.